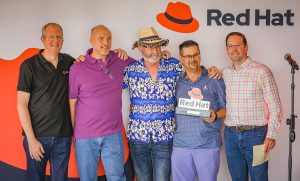 Hybrid IT systems integrator and managed services provider Datacentrix has won two awards at the Red Hat Annual Awards for 2021, which took place recently in Gauteng. The annual awards acknowledge Red Hat's certified Premier and Advanced Business Partners for their business success stories, and other sales and service deliveries.
Quintin Brussow, Solution Architect, Converged Solutions at Datacentrix, explains: "Having been a Red Hat partner since 2015, Datacentrix has invested significantly in skills training, culminating in the attainment of sufficient Red Hat certified engineering skills to become a Red Hat Premier Business Partner earlier in 2022. This makes us one of just a few local companies to reach this partnership level from the world's leading provider of enterprise open source solutions.
"We are now very pleased to also have been awarded the Red Hat Rising Star Award, as well as the Red Hat Deal Award, for 2021."
Brussow clarifies that the Rising Star Award was presented to Datacentrix to acknowledge its continued investment, within a short time-frame, in certified Red Hat skills, as well as to take cognisance of an 83 percent revenue growth in the period under review.
With regards to the Red Hat Deal Award, he notes that here, Datacentrix won the title in recognition of its negotiation of a number of complex deals that were brought to fruition, as well as for delivering a number of net new logos and net new business for Red Hat during 2021.
We are very pleased to see our Red Hat partnership growing in leaps and bounds since over the past seven years," says Brussow. "Last year was a very successful year together, with excellent recorded growth as noted. Our half-year figures for 2022 are looking very promising also, and with our ongoing Red Hat investment, Datacentrix continues to see encouraging growth in enquiries and interest.
Quintin Brussow, Solution Architect, Converged Solutions at Datacentrix
"The Red Hat Partner Awards are an opportunity for us to show our appreciation and gratitude for the partner community. We view our ecosystem as an extended arm of the Red Hat team, so we were delighted to publicly recognise Datacentrix for their hard work and commitment to Red Hat over the past few years," comments Samantha Harper, Senior Marketing Manager for Partners & Alliances, Middle East, Turkey & Africa at Red Hat. "Datacentrix absolutely deserved the Rising Star Award, due to fantastic turnover increases, training their people on Red Hat solutions, and becoming a Premier Partner – Red Hat's highest reseller achievement.
"The second award – the Red Hat Deal Award – reiterated this, with Datacentrix growing share in multiple key customers in Sub-Saharan Africa. We look forward to a continued successful relationship with Datacentrix," she adds.
"As a Red Hat Premier Business Partner, we are very excited to continue bringing Red Hat's enterprise open source solutions to local businesses – to very positive effect already, as acknowledged by these two awards for 2021. Datacentrix is optimistic about continued good growth in collaboration with Red Hat moving forward," concludes Brussow.
Read the original Tech Africa News article here.