SANDTON – Blossom Care Solutions has employed six young women from Alexandra to produce sanitary pads at its facility in Kelvin.
Chanté Ho Hip 1 minute read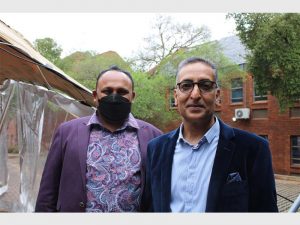 Business partner Anand Moodliar and Blossom Care Solutions' co-founder Ahmed Motara look forward to making a difference in the community. Photo: Chanté Ho Hip
Did you know that an estimated 300 million women and girls around the world menstruate each day? This is according to the Department of Women, Youths and Persons of Disability.
While this is a natural occurrence, for millions it is a nightmare due to a lack of access to menstrual products, inadequate sanitation and a lack of education on how to manage their menstrual cycle.
This is referred to as period poverty and it is an issue that affects close to seven million South African girls.
Social enterprise Blossom Care Solutions, with the help of its new sanitary pad manufacturing facility in Kelvin, aims to combat period poverty while empowering young women in the community.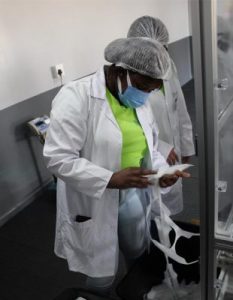 Zanele Khumalo inspects the sanitary pads from the conveyor belt at Blossom Care Solutions. Photo: Chanté Ho Hip
Through its partnership with consumer cooperative Co-op and Webhelp, the enterprise has employed six young women from Alexandra to produce sanitary pads at its facility.
This approach enables the empowerment of girls and women from both an individual and economic perspective.
According to Blossom Care Solutions co-founder Ahmed Motara at the launch on October 1, it is estimated that 30% of female school learners in South Africa miss school for three to five days every month due to menstruation.
"That is a significant issue and we [Blossom] are determined and focused to figure out ways in which we can address this issue on a sustainable basis," he said.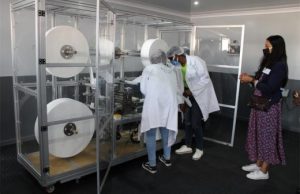 The team at Blossom Care Solutions is able to produce 50 sanitary pads every minute. Photo: Chanté Ho Hip
Managing director Shamiela Sarlie added that the overall impact of period poverty presented more obstacles to learning and development of young girls and women who were affected by it, in comparison to their male counterparts.
"This, together with the social stigma that is still associated with menstruation in township and rural markets, causes additional social and economic disadvantages to those affected."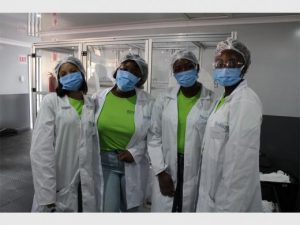 Jenny Magongo, Zanele Khumalo, Sheron Chabalala and Hope Hlogwane cannot wait to get their journey started with Blossom. Photo: Chanté Ho Hip
Details: www.blossomcare.co.za