26 Aug 2021
Recharger, a leading supplier of prepaid electricity sub-meters, tokens and token vending solutions, is proud to present its Recharger Brands Store on Takealot, South Africa's premier e-commerce site.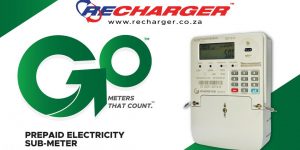 "This gives our offering even greater credibility on Takealot, as a trusted brand," explains Shaun Clarke, the company's senior marketing strategist. "Recharger had to undergo a vetting process by Takealot before being able to set up a Brands Store, which involved the checking of the company's credentials and products before being allowed to set up the Brands Store on the site.
"Being able to offer Recharger products on Takealot, South Africa's largest online retailer, offers great advantages for purchasers, including the fact that the site is a familiar and widely-used platform that offers ease of process as well as quick delivery or collection of purchases nationwide. Other benefits of Recharger include our unmatched after-sales service, as well as the fact that we are the only local prepaid electricity sub-meter company to offer a life-time warranty on selected sub-meters."
The prepaid sub-meters offered in Recharger's range are all of international standard, as well as STS (standard transfer specification) certified. The STS standard provides compatibility between certified STS-compliant electricity dispensers and vending systems in the electricity dispensing industry to the benefit of the customer, distributor, and agent.
All Recharger sub-meters must be installed independently by registered electricians. Recharger prepaid sub-meters are used in homes, cottages, apartment blocks, retail stores and holiday rentals across the country to easily monitor and manage electricity consumption.
"Recharger supplies a comprehensive range of three-phase and single-phase electricity sub-meters, which is reflected in our selection on our Takealot Brands Store. We are highly experienced in assisting our clients to select the correct sub-meter for their needs," says Clarke.
Residential homes are usually served by a single-phase power supply, while commercial and industrial facilities typically use a three-phase supply.
"When users are able to pay upfront for their energy needs, this assists in eliminating large and unexpected monthly bills, and so, by installing a prepaid electricity sub-meter, anyone can work smarter in measuring and monitoring their electricity consumption."
Currently, Recharger is the only prepaid electricity sub-meter company with a brand store on Takealot.
The Brands Store can be found at https://www.takealot.com/promotion/rechargerstore
About Recharger prepaid meters
Recharger is South Africa's leading supplier of prepaid electricity sub-meters, tokens, and token vending solutions. More than 200 000 Recharger meters have been installed for both local and international commercial, industrial, and residential clients, across any sector requiring utility management, ideal for property owners, contractors and tenants wanting to manage energy consumption more efficiently.
With a comprehensive range of meters, including three- and single-phase, split, wired, and wireless options, Recharger's prepaid metering solutions are of international standard, as well as being standard transfer specification (STS) compliant. Recharger is also proud to be the only organisation of its type to offer a lifetime warranty on certain products.
Contact Shaun Clarke, Recharger Prepaid Meters, Tel 087 158-4800, [email protected], www.recharger.co.za
Read the original Energize article here.