Datacentrix CEO, Ahmed Mahomed provided comment to ITWeb on how the organisation has been affected by COVID-19, its recent big awards haul with HPE, and its focus for 2021.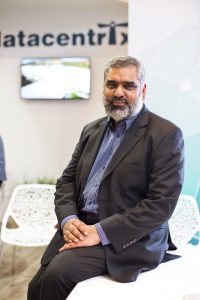 Systems integrator Datacentrix will this month migrate its infrastructure to carrier- and cloud-neutral co-location data centre solutions provider Teraco Data Environments.
So said Ahmed Mahomed, CEO of Datacentrix, in an e-mail interview with ITWeb.
This as the JSE-listed Alviva Holdings subsidiary recently scored multimillion-rand tenders with the South African government.
ITWeb understands that Datacentrix recently signed a R16 million contract with the Department of Tourism to manage ICT services for the ministry. It also scored a R1.3 million tender to provide and install server and storage infrastructure for the KwaZulu-Natal Liquor Authority.
Click Here
Datacentrix also provides South African National Parks with software-defined networking technology after inking a R298 million contract in June 2019.
However, Mahomed did not provide further details about the tenders, saying: "Unfortunately, we are unable to comment on these projects due to standard non-disclosure agreements in place for implementations in progress."
Datacentrix also won big at HPE South Africa's 2021 partner awards held last month, where the company scooped six awards.
Combining capabilities
With business booming, Mahomed said Datacentrix will be migrating its infrastructure and hosted customers to the Teraco environment in February 2021, "combining our proven capabilities with the infrastructure power of Africa's largest data centre ecosystem".
He pointed out that the move places the Alviva unit in a strong position to bring the hybrid IT discussion to the table this year.
Datacentrix's migration to Teraco comes after Teraco Data Environments this week announced it has finalised a R2.5 billion loan financing transaction led by Absa.
In November last year, Teraco started construction on a new hyperscale data centre, with 38-megawatts of critical power load, in Ekurhuleni, east of Johannesburg.
The facility, known as JB4, is scheduled for completion in Q1 2022 and as a standalone building, will be the largest data centre in Africa.
Datacentrix is also in discussions with clients to embrace customisation, infrastructure power, integration, optimisation, digitisation and turnkey cloud services, including components from security and compliance to workloads and backups.
"Our core business practices will continue to be a value-driven, innovative approach that is services-led, spanning both customers and partners, as well as a people-focused environment that fosters a culture of inclusivity," said Mahomed.
"We believe 2021 will be the year that business influencers, like Datacentrix, will provide modern leaders with the guidelines to help them move from a tactical reaction to the requirements of COVID-19, to a more purpose-driven, strategic alignment of technology to business objectives and digitisation roadmaps."
Mahomed noted that despite the adversities experienced during 2020 due to the pandemic, "I could not be prouder of the resilience, resolve and determination to succeed demonstrated by Datacentrix's management and staff".
He pointed out that Datacentrix's management team swiftly responded with a strategic response to COVID-19 that addressed business challenges/opportunities, the safety and well-being of people, as well as legislative and necessary health protocols, which assisted the company in adapting to a new working environment and staying ahead of the challenges posed.
"We were focused on ensuring business sustainability and minimising the impact on our people, which will ultimately contribute to us emerging stronger from this pandemic. The execution of this strategy is what makes the company successful.
"These measures have meant Datacentrix has not had to resort to large-scale retrenchments or salary cuts during this period, and we have seen new account wins over the past six months despite a difficult environment."
Skills drive
He added that despite challenges related to training and development brought about by COVID-19, with the discontinuation of traditional instructor-led classes, Datacentrix managed to maintain its commitment to youth development through the accelerated adoption of online tools.
"During 2020, our HR team was still able to achieve a number of successes and milestones across the Datacentrix learnership, graduate internship and staff development programmes. This included the participation of more than 100 delegates in the staff development programme."
According to Mahomed, over 850 participants have completed formal programmes available through the Datacentrix Learning Academy.
"A number of graduates have achieved their formal qualifications having completed their workplace experience at Datacentrix. The majority of our graduates and learners have been placed in full-time, continuous employment.
"The Datacentrix team used the hard lockdown period to bolster skills, increasing the number of individual certifications by over 1 550 over the time. These skills improvements contributed directly to Datacentrix's partner certification levels, including Lenovo Authorised Service Partner, Nutanix Master Partner, Huawei IT Certified Service Partner 4-Stars, and Dell Co-service Partner."
Read the original ITWeb article here.