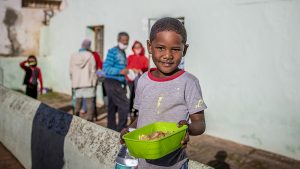 12th August 2020
By: Creamer Media Reporter
Having made significant cost savings by presenting virtual events for its members during the COVID-19 pandemic, the African SAP User Group (AFSUG) has donated R100,000 to FoodForward SA, South Africa's largest food redistribution organisation.
The contribution from AFSUG, a non-profit organisation providing a forum for local SAP customers and partners to share information and experiences, translates into approximately 117,000 meals for hungry South Africans, helping to improve their overall health and wellbeing. This is based on FoodForward SA's cost effective cost per meal of just R0.85.
Advertisement
"Due to South Africa's lockdown since March 2020, our usual face-to-face events held in Johannesburg, Cape Town and Durban have had to take place online instead," says Duke Mathebula, newly appointed AFSUG chair and head of IT business applications for Africa at sustainable habitats and high-performance materials leader, Saint-Gobain Africa. "This new format has been embraced by our member community and has additionally translated into cost savings based on unused travel and catering budgets.
"As a non-profit company, it is AFSUG's duty to pay these funds forward in a socially responsible way, and we felt the need to contribute towards addressing the nation's food safety crisis during this time of need. It was for this reason, with the full support of our previous chair Reg Barry and the rest of the board, that the decision was taken to assist FoodForward SA, as a national organisation that reduces hunger across South Africa by safely and cost effectively securing quality food for our communities in need, in its COVID-19 food security special appeal."
Advertisement
Through its process of recovering quality, edible surplus food from the consumer goods supply chain, including AFSUG member company Pick n Pay, and distributing it to community organisations that serve the poor, FoodForward SA has distributed 4,500 tons of food to 2.5 million people, through 1,200 beneficiary organisations, over the COVID-19 period alone.
"AFSUG is extremely proud to have played a role in the 18 million meals distributed by FoodForward SA over the past five months, helping to make a difference in the lives of thousands of South Africans in need during the pandemic," Mathebula adds.
"With millions of people experiencing extreme hunger and hardship at this time, we are grateful for the very generous support of AFSUG, which enables FoodForward SA to reach the most vulnerable communities across the country," says Andy Du Plessis, FoodForward SA's Managing Director.